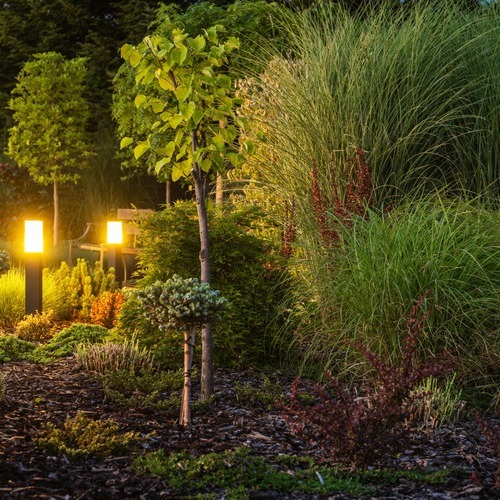 Accent Home's Exterior
From the time the sun sets until it rises again, outdoor garden lighting can accent your home's exterior beauty. It can draw attention to that beautiful tree in the center of your yard and pull it away from where you park the recycling and trash cans.
What is the main purpose of outdoor garden lighting?
The definition of outdoor garden lighting is fixed artificial lighting that illuminates areas around the home. They provide a lit visual for outdoor activities and a safety feature with a strategic pathway while giving your lawn a golden glow. There are three main purposes for having professionally installed outdoor gardening lighting:
Today, we may be more aware of making our homes secure. Outdoor garden lighting around your home can provide a layer of security, a decrease of over 30% fewer crimes according to studies by law enforcement.
Choosing outdoor garden lighting not only provides a layer of security, it also provides safety around the exterior of your home. Placed in the right areas, it can light up pathways and walkways, entrances, gates, and more.
Good outdoor garden lighting gives your home an inviting feeling for visitors. With low-voltage string lights across the patio or in the trees, your home can quickly become a place to be a cookout, party, and visit.
What are the key areas for placing outdoor garden lighting?
Placing outdoor garden lighting enhances your home's exterior once the sun goes down. They can also keep bugs at bay with the right lightbulb. The best places for garden lighting include:
Deck
Patio
Hot Tub Area
Swimming Pool
Pathways, Steps, Walkways
Inside Tree Branches
Floodlight Upward In The Trees
In Flower Beds and shrubs
Along Retaining Walls
Around the Home Exterior
What voltage is the best for garden lighting?
Outdoor garden lighting comes in line voltage, like when you plug a toaster or hairdryer into a wall socket. Here in the Dallas/Fort Worth area, this is 120 volts. And it comes in low-voltage, 12 volts like your smoke detectors. It is the low-voltage garden lighting that is commonly used for two key reasons:
Easy to work with
Easy to install
What is the best type of outdoor garden lighting?
In simple terms, you want outdoor garden lighting that does what you need and want. This may be with solar lights, but keep in mind they aren't bright and won't last as long as hardwired lighting. For brighter lighting where you can have control over the timing, hardwired, low voltage is the better choice and is available in a variety of styles.
What styles does outdoor garden lighting come in?
When lighting up your garden, using pathway and walkway lights is a popular choice. The small post fits into the ground and the built-in light is capped with a diffuser. With perfect spacing, you can frame a certain area or feature in your garden, or light up around a garden pond or the driveway.
Transform the exterior of your home with these outdoor garden lighting properly spaced to brighten the garden, path, and yard. Some outdoor garden lighting can give the space a beautiful, warm setting with these seven types of fixtures:
Bollard Lights: This type of garden lighting will shine light in all directions. 
Flood Lights: These are the most useful garden lighting to brighten a large area with high brightness, great for illuminating above the driveway. 
Garden Lights: Installing these in natural areas where you can showcase your favorite flowers and plants with a mushroom-type of light shining downward. 
Spotlights: Available in different brightness to illuminate the patio, plants, statues, or walls. 
Step Lights: Installed on walls and beside the stairs and makes for a safe path. 
String Lights: When strung through trees and over hardscapes, these provide a subtle light that creates a picturesque scene.
Up/Downlights: These spotlights provide a wide range of use, like creating a pattern on a wall or bringing a statue to life.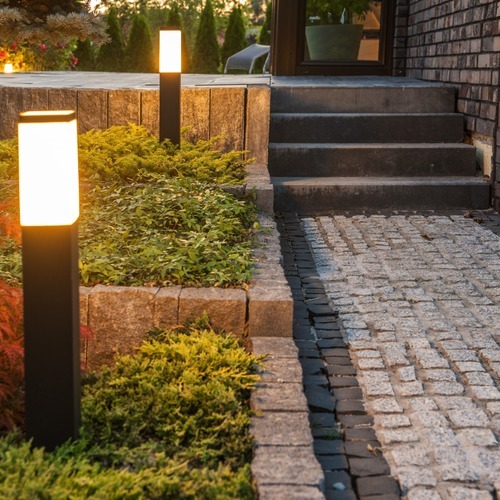 Light Up Your World
With the right outdoor garden lighting, you can light up your world, making it enjoyable for you and your guest, as well as safe. By consulting with a professional lighting contractor, they can make suggestions using their experience. They will advise you of the proper voltage and if you should have bright lighting or subtle lighting in certain areas.
Have your garden lighting installed by the contractors, you'll have a guarantee and warranty. And most will offer a maintenance program. This will have your bulbs changed as needed and if you have any problems with your garden lighting, they're a phone call away. Many of these contractors offer holiday light installation too, using their inventory or your own holiday light supplies, and again, with a guarantee. Want to find out what kind of garden lighting in Fort Worth and Dallas, TX is best for your garden? Give us a call at (817) 345-3696 to learn more.