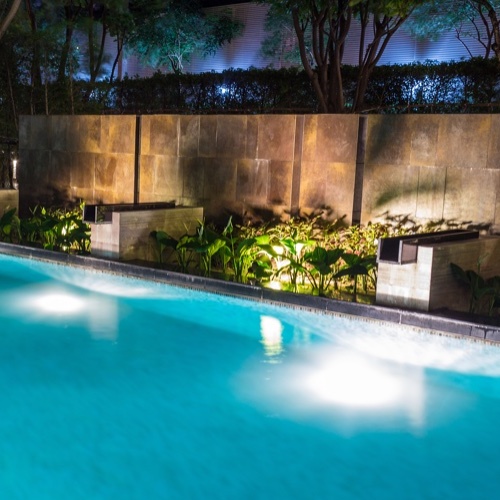 Enhance Visual Appeal
At first, you may think having Water Feature Lighting around your home or business isn't necessary, only adds to the electric bill. But there are benefits to this addition to your landscaping that you aren't considering. What is water feature lighting exactly, what are the benefits, and the purpose of water feature lighting?
Water feature lighting enhances the visual appeal of the landscaping and outdoor living area around your home or business. Water feature lighting sets a feeling of tranquility with soft flowing water around or into the gardens. It brings a certain aspect to entertaining spaces that give guests a relaxing atmosphere.
Benefits to Water Feature Lighting
There are many benefits of water feature lighting that many people do not realize, some of which are: 
Promotes a Healthier Environment: Water feature lighting provides soothing sights and sounds that can help de-stress the day. This de-stressing lowers blood pressure and helps improve your mental and physical health as you enjoy the therapeutic effects that Mother Nature has to offer.
Provides Relaxation: The sound of the water running in a water feature lighting setting encourages and promotes relaxation. To sit by a water feature and listen to the water running or see nature swimming around in a pond can ease the mind into a relaxing mode, you can feel the stress leave the body.
First Impression: Water feature lighting creates a tranquil environment that is soothing for you and your guests. They may not realize they are stressed until they sit by your water feature lighting and feel the ease taking over their body and mind.
Define Your Garden: Water feature lighting in and around your garden and landscaping will provide a unique definition to your home. It creates a new focal point and interest.
A Stylish Effect: A water feature lighting in your garden will give it a designer touch to your property with movement, sight, and sound.
Wildlife Attraction: With running water accompanying your water feature lighting, your garden will become a sanctuary that attracts native wildlife. With songbirds adding to the beauty, it becomes even more relaxing and enjoyable.
Increased Value: Real estate experts have found that a home or business with well-maintained landscaping has increased value and when water feature lighting is added, it increases it even more. A water garden with lighting adds curb appeal and increases your property value.
Where should lights be placed in a waterfall?
To add enjoyment to your water feature and waterfall, water feature lighting is just what you need after the sun sets. Landscape lighting isn't just for the deck, patio, or swimming pool. Position path lighting at the top of the waterfall, and water feature lighting behind the waterfall drop to give this beautiful addition to your home a focal point. What is a waterfall if you can't enjoy the beauty after dark?
What lights to use on a water feature?
It is a personal taste, but most water feature lighting systems are set up to highlight a pond and waterfalls. If your pond has a fountain or statue in the center where the water comes from, lighting that from the bottom will give the water flow a beautiful glow in the evening hours.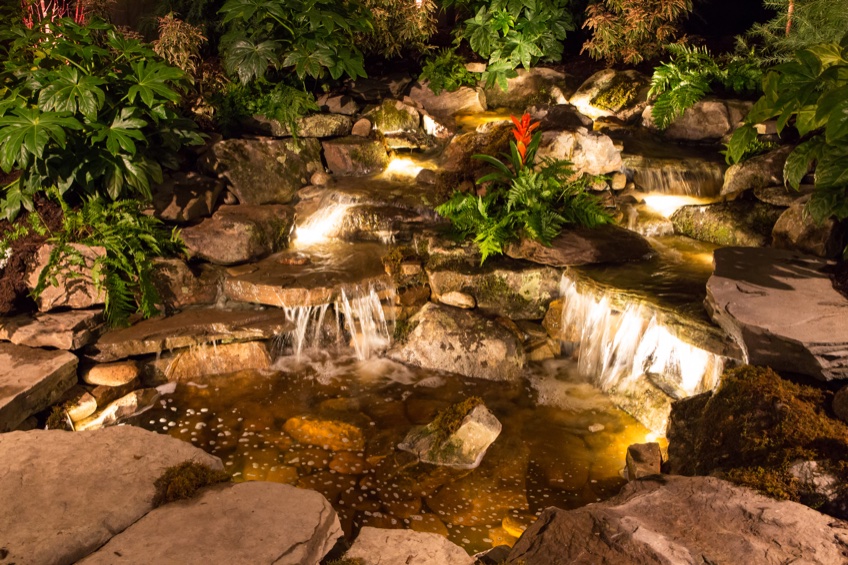 Should every water feature have lighting?
Only if you want the water feature to have visibility after dark. Underwater feature lighting in a pond gives a magical appearance and feel as you watch the fish swimming at night. Accenting around the pond and through the garden pathways with path lighting will accentuate the architectural elements of your garden and the terrestrial plants you've carefully placed and nurtured.
Water feature lighting gives a garden an ethereal glow, giving your guests a memorable moment as they walk around your garden, admiring your landscaping. Your specially designed water feature lighting will give your entire home a whole new appearance in the evening hours.
How do you light water features?
There are two key reasons for adding water feature lighting to your gardens and landscape. The first is a perfect solution for deafening noise pollution from the neighbors and street traffic. The other reason is to give your landscape an added element of tranquility.
Water feature lighting should feature the things of beauty and inspiration in your garden and landscaping. This includes your aquatic plants and life, the unique statuary, and the hardscaping you've installed. And there are two types of water feature lighting that should be used for the perfect ambiance:
Downlights: This creates moonlight when installed above the water feature and is installed in the surrounding trees. It creates a diffused, natural look that mimics the moonlight.
Underwater: With this submersible water feature lighting facing upward is ideal for your aquatic areas. The waterproof light fixtures should be positioned under the surface, directed upward to create an effect with up lighting that is beautifully backlighting the aquatic life.
Do you leave water features on all the time?
When you have a water fountain that operates on gravity, simply keeping it clean of any debris is your only concern. Water features today are installed to recycle the water, so it isn't wasting a natural resource. You can turn it off if you're going to be away for an extended time.
Lights, Camera, Action! When should water feature lights be turned off, or should they? Water feature lighting will be installed with a timer. That time can be set for the lighting to be on from dusk to dawn because there is no reason to have the lights on during the day.
Enhance outdoor appeal with water feature lighting in Fort Worth and Dallas, TX! Majestic Outdoor Lighting is who to call at (817) 345-3696.