Dallas Landscape Lighting from Majestic
Welcome to Majestic Outdoor Lighting!
With Majestic Outdoor Lighting's professionally installed landscape lighting systems, you can enjoy your landscape in a whole new light year-round! We provide outdoor lighting services in Dallas / Fort Worth and all surrounding areas. We can assist you with any outdoor lighting need you have from small to large. We handle home lighting, commercial lighting, pool lighting and more!
Landscape lighting can improve the appearance of your property greatly. It also can aid in safety for you and your loved ones. You can install security outdoor lighting, or even incorporate security features into a beautiful outdoor lighting design. No matter what end result you are searching for, we are the team to call to ensure your landscape lighting dreams become a reality. We are proud of the reputation we have earned for our premier landscape lighting in Dallas / Fort Worth.
Our Customer Pledge:
To provide an enjoyable and seamless buying experience
To deliver the highest quality lighting products
Utilize only the best lighting installation practices
Maintain the highest level of customer service satisfaction
We have installed landscape lighting in the Dallas Fort Worth area for pools, backyards, decks and outdoor kitchens for hundreds of clients. See how majestic your home can look at night! Schedule a FREE evening demonstration.
We are located in Keller, Texas and service the entire Dallas Fort Worth metroplex. We have spent years honing the art of landscape / outdoor lighting. We specialize in designing an outdoor lighting plan and we provide top of the line installation of LED lighting systems, low voltage and more. Give us a chance to earn your trust. We want  you to experience the Majestic Outdoor Lighting difference.
More Outdoor Lighting Work
Because we only provide high-quality outdoor lighting in Dallas / Fort Worth, we are always proud to show off the work we have performed. You can check out our gallery to see more of our work.
Our Lighting Services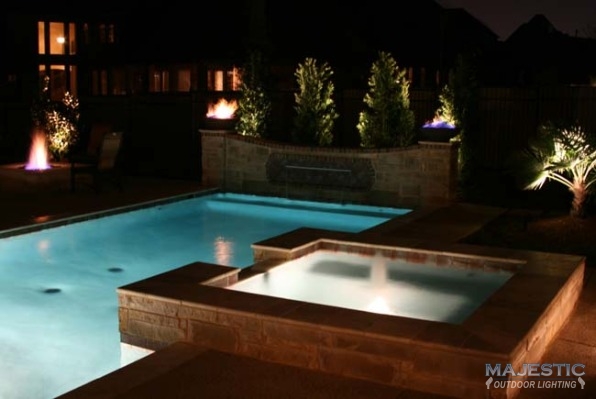 We provide a large array of outdoor lighting services in Dallas / Fort Worth to fit any need. We can assist you with creating any ambiance you are looking for. Whether you are hoping to increase the security of your property through properly lit paths, or you are hoping to create a romantic outdoor dining place, we have the lighting solutions for your needs. Our team is comprised of experts in outdoor lighting design. We will carefully construct a perfect plan for your home or commercial property. And we will go over every detail of the outdoor lighting plan we construct with you to ensure it is precisely what you are looking for. We provide all of the following types of Outdoor Lighting:
Garden: Make your garden stand out with lighting fixtures that enhance your garden's natural beauty.
Home Exterior: See your home in a whole new light with year-round home exterior lighting.
LED Landscape: Unearth the beauty of LED paired with energy savings by enhancing your property with LED landscape lighting.
Poolside: Add lighting to make your poolside a usable space day or night.
Landscape: Your landscaping can be brought to life through the simple design of outdoor lighting.
Security Outdoor: Keep you and your family safe through proper security lighting.
Business / Commercial: Have a large property or a special commercial project you need assistance with? Talk to us about the options available.
Arbors & Water Feature: Nothing improves the ambiance of your water features and arbors like a beautiful lighting design.
Moonlight / Down lighting: Enhance the feel of your property through this specialty tree lighting.
Holiday / Christmas: Get in the spirit of the holidays with fun, classic or even animated holiday lighting.
We also provide the following Extra Services:
Landscape Lighting Maintenance
Patio Cooling Misting Systems
We are based in Keller, TX and service the greater DFW area. We have spent years providing quality lighting solutions for the area and we look forward to extending these service to you. If you want to learn more about the work we provide, feel free to either check out our online gallery, or fill out our online form to schedule an evening demonstration of our work. When you are looking for landscape lighting in DFW that you can count on for quality, beauty and durability, contact the experts at Majestic Outdoor Lighting.