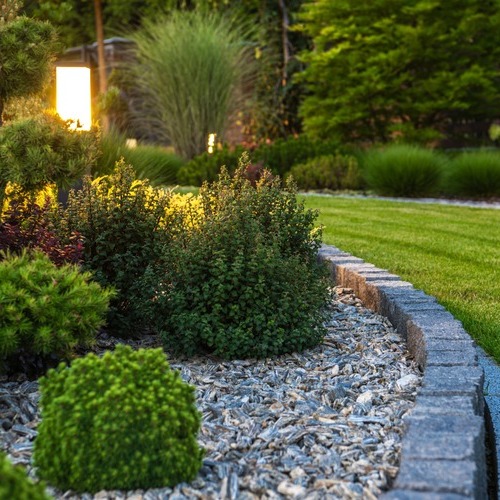 LED is Good for Outdoor Lighting
LED (Light-Emitting Diode) is a light source that discharges light when activated. Most of us believe that LED  is a 'new' invention from the 21st century, but it was actually developed in the 1920s and has been expanded and improved upon ever since. Today, we typically find this invention outdoors in LED Landscape Lighting.
How much energy do LED lights save?
In a residential setting with ENERGY STAR-rated products, LED landscape lighting uses 75% to 90% less energy than standard incandescent lighting. How long do LED landscape lights last? Studies have found that LED landscape lighting last mover than 20 times longer!
Is LED landscape lighting less expensive?
The initial cost to install the LED landscape lighting fixtures typically costs more upfront. However, the ROI comes from the long lifespan of the bulbs and energy savings.
What type of LED lights are best for outdoor use?
If you're a DIY homeowner, you may wonder if any LED lighting be used outdoors. The answer is yes if the LED landscape lighting you choose to install is properly housed and sealed. An important fact about LED lighting you need to know is the IP rating or the Ingress Protection.
Ingress Protection is the degree of protection for outdoor lighting against liquids and solids infiltrating. The higher the IP rating, the better protected the LED outdoor lighting fixture.
What types of LED landscape lighting are available for the outdoors?
The right LED landscape lighting can transform your basic boring backyard into a luxurious, wonderful area of entertainment and relaxation. Like a lot of things in life, less is more with LED landscape lighting. It can be easy to get carried away, lighting up every aspect, corner, and detail of your yard, but it isn't necessary and tends to create a washout look.
Using the following types of LED landscape lighting sparingly and positioned in the 'right' place can provide the same results of a well-lit yard that can accent your home:
Floodlights / Spotlights.
Inground Lighting.
Outdoor Post Lighting.
Path / Walkway Lighting.
Deck and Steps Lighting.
Underwater Lighting.
Hardscape Lighting.
What color temperature is best for LED landscape lighting?
A few facts about LED lighting that you should understand when choosing your LED landscape lighting bulbs and fixtures. Starting with the amount of light that comes from LED lighting is measured in lumen. The higher the lumen number, the brighter the lighting. And vice versa, the lower the number, the dimmer the lighting.
Next is the color of the LED lighting. Color temperature is how the lighting is measured in a blueish or yellowish tint. High-temperature lighting is bluish and low-temperature lighting is yellowish. The differences in color temperature have an effect on how the color is rendered and the mood, setting the emotional impact of the environment.
The various colors of LED lighting include:
Very Warm White 2200K: The lowest color temperature for white lighting. Often installed outdoors around fireplaces and hot tubs.
Warm White 2700K: the most commonly installed for LED landscaping lighting. It provides a soothing and welcoming environment.
Natural White 3000K: This provides cooler lighting that accentuates the blues and greens in the landscaping vegetation.
Cool White 4000K: This bluish LED lighting is used when blue-tone landscaping is the focus, like blue spruce, and where a simulated moonlight appearance is desired.
If you're going to be installing LED landscape lighting for outdoor living and entertainment areas, professional lighting services recommend 2000K to 3000K for a warm lighting effect. This rate of lighting is easy on the eyes and still puts out enough lighting for safety and seeing what's around you.
Is LED landscape lighting waterproof?
LED landscape lighting that is rated at IP65 is sufficiently protected from liquid, solid, or other foreign objects infiltrating the lighting fixtures. If the outdoor lighting you have installed is to be left illuminated semi-permanently, it should be rated at IP65 or higher.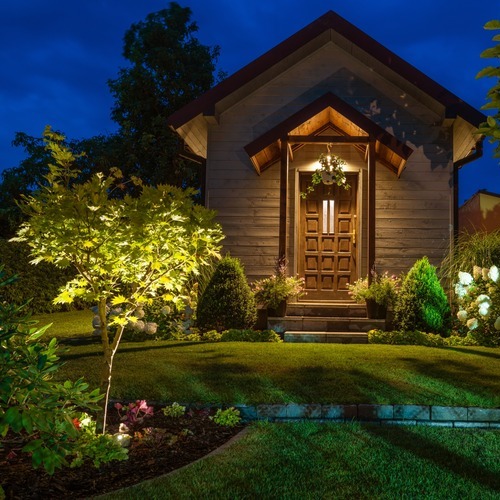 At The End Of The Day
Every homeowner is concerned with the cost of anything they do in and around their home. So, what do LED landscape lights cost? Well, the more elaborate LED landscape lighting you desire, the more expensive. Keep in mind that you're not only upgrading the curb appeal of your home (yes, the backyard can be considered curb appeal), you're also upgrading the safety factor too. If your budget is tight, choose your key factors and start small, working up to the more elaborate results you desire.
Three areas you want to consider when thinking about LED landscape lighting:
Identify features of the landscaping you want to have highlighted. A beautiful tree or a water feature.
Add drama to the areas that don't stand out in daylight, like a simple stone wall. The personality of that stone wall can take on a new personality after dark with the right LED outdoor lighting.
Last but not least, is the function where you want LED outdoor lighting installed. Lighting up the deck for entertainment purposes or lighting up a pathway or steps for safety.
If you're interested in installing LED landscape lighting in Fort Worth and Dallas, TX, give Majestic Outdoor Lighting a call at (817) 345-3696.