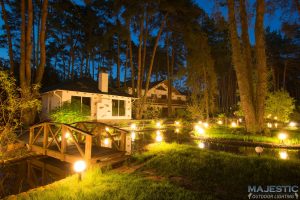 In the world we live in today, we have to be careful with every single thing we do. It may seem economical to turn your lights all off at night, but that leaves a window right open for someone to be able to sneak into your yard or break into your house. There are several things you can do to keep safe and protect yourself from things like this from happening. When you add lights to your yard, you are drawing positive attention to your home. Instead of it being something negative, it is something that will keep your home safer.
Adding flood lights – If you add a few floodlights to your backyard, it will keep the main parts of the house lit up. This is a great idea because it will keep people from being able to just walk up to your back door without having someone potentially see them.
Ground Lights – Adding lights to the ground in front of your house not only looks beautiful, but it will add an extra level of security to your home. Not many robbers are going to choose the most well-lit house on the street to break into because they are more likely to become caught.
With just these few options, you can see why it is a good idea to add lighting to your home. We can go over options and pricing that works best for you if you call Majestic Outdoor Lighting at (817) 345-3696.