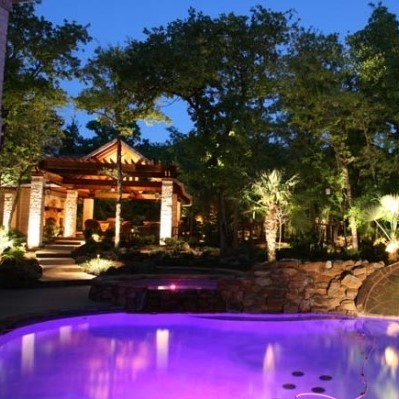 Can you get electrocuted from a pool light?
Here in Texas ,there is nothing better than having a swimming pool in your backyard on a hot summer day. Except maybe having a swimming pool in your backyard on a hot Texas summer evening. With night swimming though, you need pool lighting, and fortunately, there are pool lighting contractors to help you get ample lighting that will give your pool the safety you need and the ambiance you want.
There are pool lighting basics, which typically come with the installation of the swimming pool. While that pool lighting provides the safety features needed, with this investment, it is nice to have additional lighting near pool and in the pool too. Today, we'll discuss pool lighting options available and how they can add to or change your basic swimming pool in a backyard to an oasis.
Absolutely, yes! Pool lighting, anything electrical, near water is dangerous. Simply because it is in your backyard doesn't negate the dangerousness of pool lighting. From 2002 to 2018, there were thirty-three people injured by electrocution from swimming pool lighting, and thirty-three people died from swimming pool lighting electrocution.
How does that happen if the pool lighting is installed by a professional lighting contractor? There are three common possibilities that could cause pool lighting electrocution:
Faulty electrical wiring to filters, pumps, vacuums, and underwater lights
No Ground-Fault Circuit-Interrupters (GFCI), electrical circuit and outlet protection
Electrical appliances and electric extension cords getting in the pool
Are pool lights dangerous?
As the homeowner, you want your family and guest to have fun in your swimming pool, but you also want to them to be safe. This can be done by making sure that you have the swimming pool lighting and all things electrical related to the pool checked annually by a professional. This includes the pool lighting and all the equipment associated with the swimming pool.
Interior swimming pool lighting, the filter, and the pump are an invisible danger. The electrical voltage from these invisible dangers can severely injure, paralyze, even kill a person in manner of seconds. Faulty wiring in a swimming pool is a hazard that can be avoided by having your pool maintenance contractor check and test annually.
You should also establish rules and maintain monitoring of those rules that there is no electrical appliances near or in the swimming pool. However, just in case the one second you turn your back, and somebody brings a radio into the pool, make sure you all the electrical outlets around and hear your pool are GFCI.
These are basic common sense policies for in-ground pools or above ground pools. Electricity and water do not mix and can be deadly. There are ways to enjoy having music and pool lighting, safely.
How to add pool lighting to an existing swimming pool?
Swimming pool lighting is attractive and beautiful, creating an appeal for a summer night of relaxation. While it is ideal to have poo lighting installed when the swimming pool is being installed, they may not be enough or what you want if you're a successive homeowner.
With an inground pool, lighting provides more than just aesthetics and gentle sophistication. Even if you're not swimming, lights glistening from under the water is relaxing and soothing. It is the next best thing to being on the beach in the moonlight.
So, if you purchase a home that has the basic pool lighting, the safety feature is there, but maybe not the ambience you want. You can have pool lighting added after the fact, but it will require a level of construction. This would be the time to evaluate your swimming pool and determine if there are changes you'd like to see overall.
Perhaps the pool is the older style with a deep end and a shallow end. Swimming pools installed in homes today typically do not have the 20 foot deep end. They have gradual slope from the center to both ends, one a bit deeper than the other, especially if there a diving board.
So, while you're having swimming pool lighting added and upgraded by professionals that know how to design pool lighting in today' style, get the deep end filled some, maybe new tile or replace missing tile. You may consider having the pool bottom changed with a design in tile embedded. The possibilities are endless.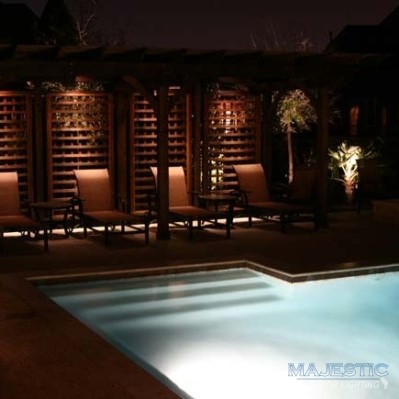 What is the best pool lighting system?
Swimming pool lighting today have endless ways to light up your pool. They come with convenient features, in fun colors and designs, and can make your pool lighting for parties something that nobody will forget! Even better, you can control all of it from your smart phone!
There are three key types of pool lighting to choose. Each of the three has benefits unique to them that may be just what you need and want.
LED Pool Lighting: These energy-efficiency and long lasting type of pool lighting is a combination that you won't regret the higher upfront cost. Why? Because you won't be replacing bulbs for years and the overall cost of operating is lower than other pool lighting options. The wide selection of colors and color-changing pool lighting will give your backyard an ambience that makes everyone envious. There is a less expensive way to go with battery-operated and floating LED lights instead of hardwired.
Halogen Pool Lighting: For brightest pool lighting that will give you the most bang for buck, halogen pool lighting is the better choice. Halogen swimming pool lighting is brighter than the above mentioned LED lights. They are less expensive and has been the main pool lighting option for years.
Fiberoptic Pool Lighting: If changing light bulbs is your biggest pet peeve, then fiberoptic pool lighting offers you a solution. The power source and light bulbs are housed in a dry power box away from the pool. The lighting travels from that box to the pool by flexible fiberoptic cable that connects to fittings in the pool wall. When a bulb needs to be changes or there is maintenance issue, just open the dry power box and handle it. 
Closing out this piece on pool lighting with one more suggestion: Solar Pool Lighting. These will a colorful splash of fun to your nighttime pool parties. They aren't a full pool lighting system but can work with the halogen or fiberoptic pool lighting. No matter which type of pool lighting you choose, have an authorized pool lighting contractor install them. This will give you a guarantee that they are installed correctly and safely. Need pool lighting installation in Fort Worth and Dallas, TX? Call (817) 345-3696 today!