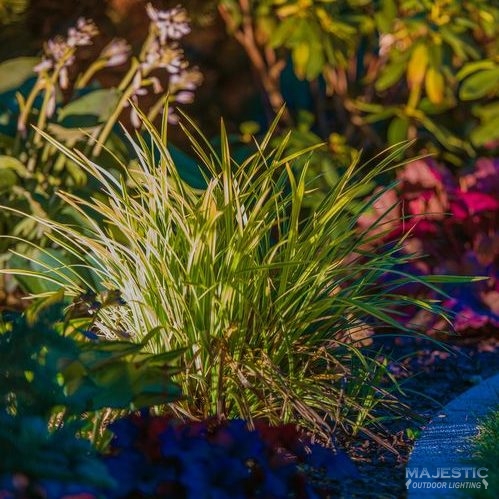 Have Fun With Garden Lighting
With spring coming around the corner you may be wondering how best to accent the new blooming flower beds or other foliage that graces your landscaping. Garden lighting is a popular way to spruce up the look of landscaping and freshen up the atmosphere. It can provide a sense of wonder and mystic during the night and highlight particularly especially attractive areas of the landscape. There are many ideas you can make a reality, here is some helpful information that may prove useful to you with your garden lighting projects. If you'd like to have the help of professionals guide you through the process contact your local outdoor lighting company for more information.
Where should outdoor lights be placed?
Outdoor lights can essentially be placed wherever you want them to be placed yet some logistics should be considered. First, you'll want to decide what areas or objects you wish to be lit and then you can search for the lighting techniques that typically people choose as most successful. Garden lighting for flower beds, for example, may have different recommendations than those for say a patio. Depending on the effect that you desire to give you'll also choose the appropriate features, accessories, the right power supply, and bulbs. 
How many lumens does a garden light need?
Garden lighting can have a range of 12-1300 lumens depending on where they are placed. Path and step lighting are typically best at 100 lumens while flood and motion sensor lights best recommended at 700 lumens. General landscape lighting can be around 50-300 lumens (based on preference,) wall lights from 50-185 lumens and underwater lights from 200-400 lumens.
How do you use garden solar lights?
If you're installing solar lights for your garden lighting keep placement in mind as they will need ample exposure to sunlight during the day in order to charge up on energy to work well into the night. As far as installation, simple steps to follow are to first install foundation stakes for the lights to go into the ground, then attach the light posts and position the remote solar panels.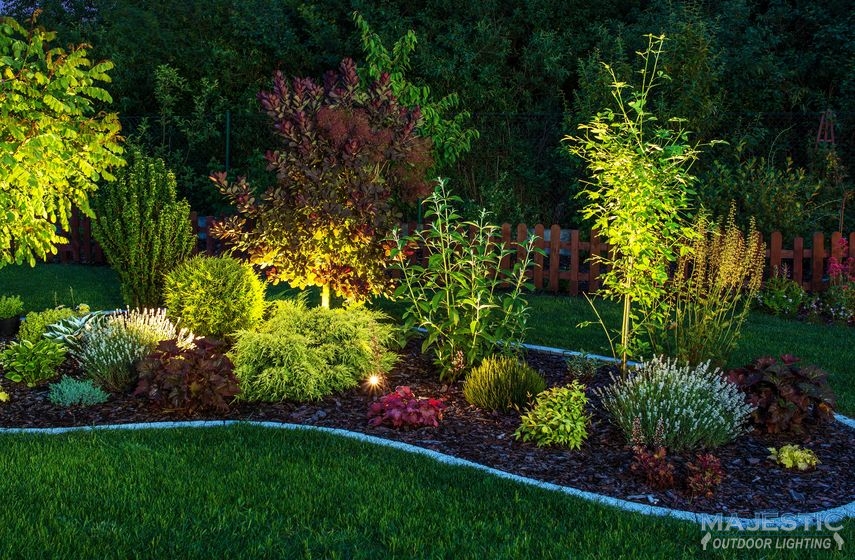 Garden Lighting Design Tips
Have Lighting come from overhead.
Low wattage, low voltage is recommended.
Use garden spotlights sparingly.
Avoid glare from one light source by having many smaller lights.
Illuminate solid objects rather than thin, skeletal ones.
Make use of light-colored or reflective surfaces for added illumination.
For more of a dynamic add garden lighting accessories.
Get economical in bulk design with garden lighting kits.
How do I light my garden?
Garden Lighting Design Guide
There are many ways that you can improve upon the design of your garden yet here are some tips that may make for a great result. Keep the fact that natural light will always be present and will come from above. Therefore, the bulk of your lighting should come the same direction overhead, the higher the better. You can use low wattage flood lights for most of this with bulbs no bigger than 100 watts, you might also consider low-voltage lighting as well. Garden spotlights should be used sparingly and to highlight interesting features or landscape details. When highlighting large flower beds or other planting areas it's better to use a number of smaller lights in order to create a series of softly overlapping pools of light rather than a single large unit. For any light fixtures follow the manufacturer specifications to see what the max wattage should be used but keep in mind smaller bulbs are often adequate. Solid objects rather than thin, skeleton-like structures should be illuminated so avoid bare trees, open trellises, and similar areas. Make full use of light-colored or reflective surfaces in your lighting scheme to extend the source of illumination by reflection and diffusing rays over a wide area. Consider adding accessories to your garden lighting like interesting lamp shades or playing with color hues. For economical endeavors, there are many garden lighting kits out there that can sell a pack of light stakes or fixtures which can make for a more convenient process of design. To seek more of an impact for your garden lighting consider reaching out to a professional for design tips. Ultimately, any way that you provide lighting to your landscape will create an illuminating effect that's pleasing to the eye to all who look upon it.
If You'd Like Garden Lighting Design Help Contact A Professional
These are just a few ways that you may implement design elements for your garden lighting. The options are all flexible in accordance with your design preferences and can make for an attractive outcome no matter what you choose to go with. If you'd like the assistance of a professional with your garden lighting endeavors, reach out to your local outdoor lighting company for guidance. Garden lighting at night can create a magical effect in highlighting the landscape and is a fun way to enjoy the wonder of your garden with ambiance. Get your project underway soon!
If you're interested in garden lighting in Fort Worth and Dallas, TX call (817) 345-3696 with Majestic Outdoor Lighting!