It's that special time of year! No matter the holidays you celebrate or your preference on what decorations are put up, no one can deny the joy that holiday lights elicit. Multi-colored, LED, classic white, net lighting, and more – we have all your holiday lighting taken care of!
It is no secret that putting up dozens of tiny lights can be time consuming, and even dangerous without the proper equipment. Our professional holiday lighting service saves you the headache of installing your lights while still being able to enjoy their full beauty! Work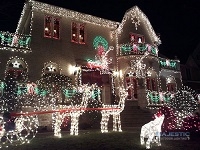 with our lighting technicians to create the exact vision you have in mind for your house. We come prepared with all the necessary equipment and years of experience to help you design the decorations of your dreams. 
Call us today at 817-345-3696 to explore holiday and Christmas lighting for your home. We have been DFW's top holiday light specialists since 2006!