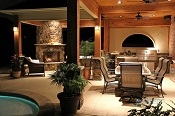 At night, it is a common part of many people's routines to turn on the porch light. This is usually followed by turning it off before bed so as not to waste electricity. Unfortunately, a dark house can be an ideal spot for unwanted activity from all kinds of creatures. While outdoor lights offer excellent security, they also boost your property's aesthetics while allowing you to work, play, and gather at night.
Security and Functionality
Outdoor lighting allows additional functionality to your property by allowing you to play, cook, work, and gather at night. Why limit yourself to only enjoying the outdoors during the day? Highlight the best features of your yard to showcase the elegance of your home, your hard work in the garden, or any other favorite features.
Outdoor lighting also offers exceptional security. Installing motion sensor lights near doors, windows, garages, and driveways will help lessen the likelihood of potential unwanted visitors and activity. If you have a pool or a water feature in your yard, highlighting it at night will keep your guests and children safe by alerting them to its presence.
Call us today at 817-345-3696 for a nighttime demonstration of how outdoor lighting can transform your property!