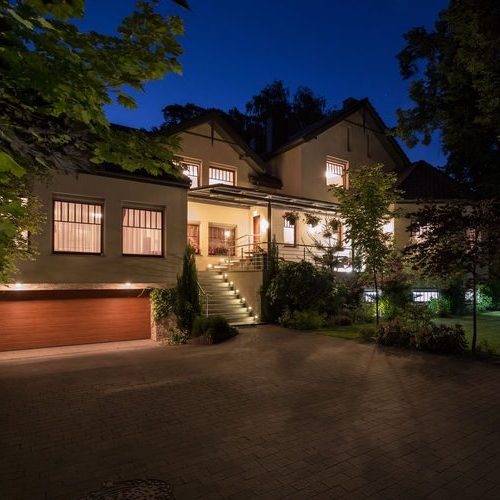 How Do You Plan Landscape Lights?
Are you looking to add more curb appeal and value to your home? One of the easiest ways to do this is with landscape lighting. What is landscape lighting? Landscape lighting is the use of outdoor lights to illuminate certain areas of your lawn or backyard. With the proper lighting, not only can you increase the value and curb appeal of your home, you can also add more security to your property. When it comes to investing in landscape lighting, many people don't know where to start or how to plan the design. If you are planning on getting landscape lights for your home, the first thing you can do is walk around your property and determine where lights can be added. Maybe you want to highlight your trees or you want lighting down your pathway–a great way to decide what lighting you want is to check your front and backyard for places that need lights. To get a better idea of what you need, you can also sketch out your ideas. Next you will want to choose the light fixtures that you want. A lot of people ask, "How do I choose an outdoor light?" Its all going to depend on what style you like, as well as the appearance of the light. You don't want a single fixture to be too bright; instead you can use lots of lighting to achieve the amount of light that you want. Lastly, you will want to hire a lighting technician to add wires and install lighting. They can even help you with the design portion, as they have lots of experiencing coming up with unique landscape lighting designs.
What's the Best Landscape Lighting?
Choosing the right landscape lighting can be hard, as there are a lot of options to choose from. We have compiled a list of some of the best and most common landscape lighting options. All of these options are able to add more light to various areas of your backyard or front lawn.
Moon Lighting: Placed up in the branches of a tree, the light is pointed down so that the light illuminates the branches of the tree. It gives the look of moonlight washing over the branches and tree trunk.
Path Lighting: This is a pretty popular landscape lighting option as it adds more light to an area that is not always well-lit. This can also be applied to your driveway. People ask, "How far apart should driveway lights be?" and it will depend on the lighting used.
Shadowing: This type of lighting requires placing lights between the area or object you want lit and a vantage point; a flat surface has to be behind the two areas in order to catch the shadows of the object.
Silhouetting: The lighting for silhouetting is placed behind the object or tree in order to create a silhouette effect. This can be used for trees, bushes, or any object that you want to add more drama.
Up Lighting: The lighting is placed at the base of a tree or object to highlight the main area of the object or trunk of the tree.
Washing: What are wall wash lights? This is a lighting where you flood a large wall or area in order to give it more ambient lighting. This would work for a fence or even a patio area.
Why Install Landscape Lighting?
Many people who own homes always want to know why they should install landscape lighting. There are a lot of reasons why investing in landscape lighting is a good idea. The first reason is that it adds more value to a property. You can highlight the features of your home, add more dimension and drama, and give it more style. Also, if you plan on selling your home, people love homes that have more lighting. Another reason why landscape lights are a good idea is that they add more curb appeal. You are able to accentuate the best parts of your lawn and backyard with the right landscape lighting. One of the biggest reasons that homeowners should consider landscape lighting is for security reasons. With more landscape lighting, the house won't be a potential target to burglars. Lastly, landscape lighting keeps you safe. If you don't have well-lit pathways or lights on your patio, there is the chance that someone could fall and hurt themselves. If you are interested in investing in landscape lighting, you might be wondering, "How much does it cost for landscape lighting?" it is all going to cost on how much landscape lighting you have installed, what types of lights are being used, and the type of fixtures used.
Landscape Lighting Spot Vs Flood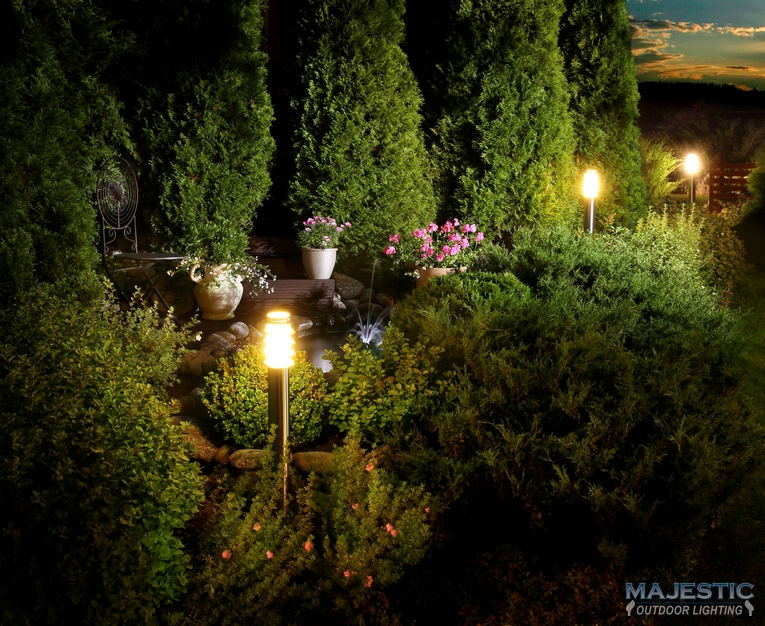 Which One is Better?
Both landscaping spot and flood lighting are very different types of lighting. Spot lighting is when the light casts a very small beam of light and it fixed on a specific area, whereas flood lighting is a beam of light that is really spread out and highlights a larger area of your yard or home. Neither one is better than the other, it just depends on the look that you want. Sometimes spot lighting is going to fit better than flood lighting and vice versa. Depending on how you want your trees, bushes, or patio to look will determine what type of lighting is used. If you are needing landscape lighting in Fort Worth and Dallas, TX, please call the professionals at Majestic Outdoor Lighting. It might seem like landscape lighting could be done on your own, but you would never tackle a residential roofing project on your own, so why attempt it with your landscape lighting? Our team has the experience and skills to offer quality outdoor lighting for your home. Give us a call at (817) 345-3696 to learn more.