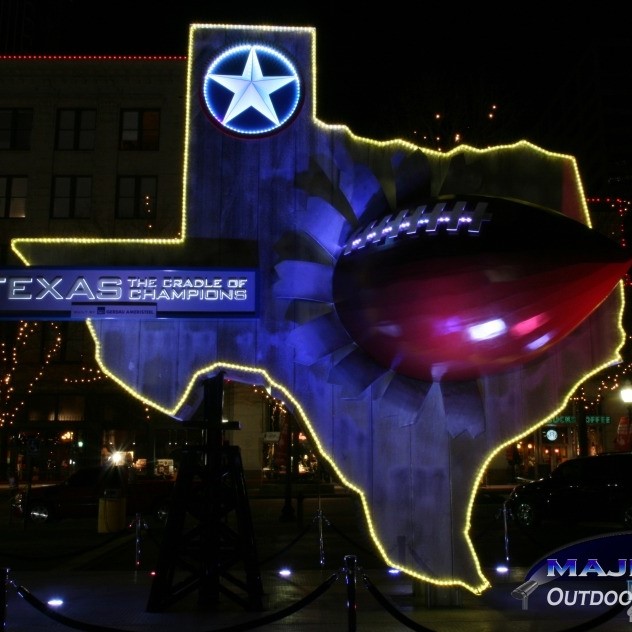 Lighting up your business
With daylight savings time change, it gets darker much earlier now. Perhaps is now the time to see how well the commercial outdoor lighting appears. Are the parking lots well-lit and are the entrances well-defined by lights? Is your store's signage lighting fully lit or are there burned out areas?
These are things that can determine the amount of business you have coming into your store after 5pm. And for a retail store, those after work shopping hours are important during the holiday season. If a consumer can't tell that your store is open or they don't feel safe walking through the parking lot, they will most likely go to the next store. Or worse: Shop on-line! Commercial outdoor lighting can affect your business in one of two ways. It lets everyone know you're open and provide safe parking. Or appear closed or that you're not concerned with your clientele's safety.
Outdoor lighting for commercial buildings can be a real game changer for businesses, especially these days with theft and carjacking on the rise. Perhaps you are a commercial property owner or manager, your tenants depend on the upkeep of your property to attract more business for them. If the turnover in your office complexes or retail store space is high, it may be time to take a look at the commercial outdoor lighting. A tenant that has a drop in business will relocate when their lease is up and may not tell you why.
As a retail business or restaurant, commercial outdoor lighting for signs speak volumes for advertising your business. If your restaurant is one of several on a block and your signs are partially lit and there is no outdoor parking lighting, chances are, hungry patrons are going next door or down the block. Why? With poorly lit commercial outdoor lighting, including your logo signage, it appears you're not open. Or worse – your service may be as poor as the lighting!
How much does commercial lighting cost?
Well, that depends on what type of commercial lighting options you choose. Today, while businesses are wanting the commercial outdoor lighting that tells everyone "Hey! We are open! Shop here! Eat Here!", they know they need to be environmentally conscious. To that end, we recommend going with LED lighting.
It isn't cheap to retrofit commercial outdoor lighting but keeping your eye on the prize of increased business, the ROI is on the horizon. An average small business can spend between $10,000 and $20,000 for a led retrofit. A mid-sized business can spend as much as $60,000 with a large business spending up to $500,000. When you consider that if you keep the standard light bulbs replaced as they burn out, you'll spend as much as $20,000 a year. A LED retrofit for your commercial outdoor lighting will save you up to $5,000 annually just in light bulbs. And let's not forget the manpower to change out those light bulbs!
What other reasons are there to switch over to LED commercial outdoor lighting? Commercial LED lighting can reduce your utility costs significantly. There are many different options that will light up your parking lot, store front, and signage without pulling a lot of energy. Even better, they last longer, so you won't have to be changing out light bulbs every 30 days or so in your commercial outdoor lighting fixtures and signage.
LEDs are employed for indoors lighting and commercial outdoor lighting, providing safety and security in several styles and types:
LED Shoebox Lighting: LED shoebox lighting is ideal and common in parking lots, typically pole mounted, but a lighting professional can talk to you about alternatives. There are sensors available today to take away the task of remembering to turn the lights off when you close. In addition to timers, there are motion sensors and photosensors for afterhours security purposes too. 
LED-wall Pack Lighting: Wall mounted or wall packs are the commercial outdoor lighting that is installed on the exterior sides of a building. They light the exterior of the building and the parking area.
LED Outdoor Flood Lighting: LED outdoor flood lighting provides a high-intensity lighting for wide areas that can attract attention to your commercial business's landscaping and monuments. LED commercial outdoor lighting is excellent for those pathways, sidewalks, and walkways so that your customers can see where they are going. 
Any commercial or public use building that has nighttime activities, like a sports venue, LED commercial outdoor lighting is ideal! With area style or directional style, choose what suits your building and the immediate area best.
What is the best outdoor commercial lighting to attract business?
Today, LED light bars are a good choice., They provide accent and task lighting with built in functions that give you multiple flashing colors and fading effects that grab attention of potential customers passing by. Some great outdoor commercial lighting ideas to consider are:
LED strip lights provide a thin profile, high output with little energy consumption. Ideal for signage and windows.
LED light bars are excellent for accenting indoor displays or outdoors signage.
LED commercial outdoor lighting is perfect for outdoor displays and exhibitions at parking lot sales and trade shows.
LED lights are ideal for your display cabinets, providing a natural appearance. Be creative and use multicolored LED kits with multiple colors, dimming, and flashing.
For bars and restaurants, LED commercial outdoor lighting is ideal for outdoor dining and patios, creating an ambiance that traditional lighting can't without increasing the power usage.
LED commercial outdoor lighting won't infringe on nearby residents, but still provide a properly illuminated exterior for advertising and safety.
Commercial electric outdoor recessed lighting will give your business exterior a smooth appearance and keep it lit up for attention and safety.
Don't close the door on the holidays with professional commercial outdoor holiday lighting! While commercial outdoor lighting is important all year long, now with Thanksgiving and other holidays, up until after New Year's Day, is crucial in drawing in more business. A professional commercial holiday lighting installation will give your business that boost you need this year! Get started on your business lighting today when you call (817) 345-3696.