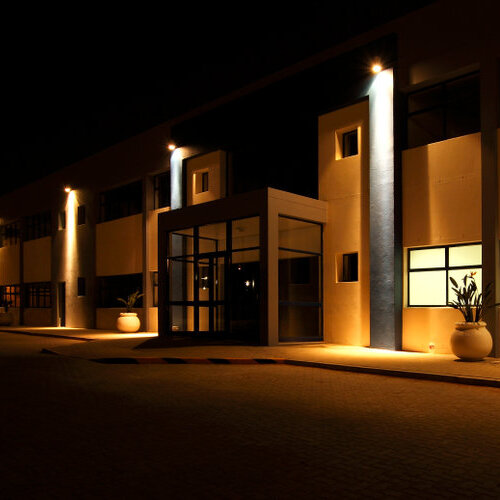 Why Security Lighting is Important
A home should be a place where you feel safe and secure, locked up behind doors and windows when needed, and having a camera doorbell just isn't enough. That's especially true if you get home late at night or leave for work in the middle of the night. These are the times where security lighting is not only nice to have but is essential for personal and property safety. 
The key purpose of security lighting is for protection from potential intruders. It is also a safety feature for entering and leaving your home or business in the dark. For dark areas, it eliminates any concern about what or who could be lurking. This makes it safer for you and your customers or visitors, minimizing the chance of falls and injuries.
For a business, when connected to motion detectors, security lighting is great for after hours, or for your home when you're If. This means the lighting will illuminate if there is any movement in certain areas. When the exterior of a home or business is suddenly illuminated around the exterior, a potential intruder will likely move on to the next property.
Security lighting also makes the outdoors around your home more functional. With ambient lighting, your home offers a more welcoming environment. This adds to the aesthetics and property value of your home. Though it may appear to be primarily for security purposes, security lighting adds to the landscape of a property too.
What are different types of security lighting?
In general, there are four types of security-lighting systems.
Continuous Lighting
This more commonly used security lighting system consists of fixed lights that are arranged to flood a specific area continuously. These systems provide overlapping cone-shaped light during darkness with up to a 50% overlap. With that overlap, when one light goes out, the lights on either side still have that area illuminated. A continuous security lighting system works via two methods:
The Controlled Lighting method has a limited width of the strip lit outside the perimeter, like that along a highway. The security lighting is controlling the strip and width of the light, adjusted for a particular need.
The Glare Projection security lighting method is used when the lighting glare is directed across a surrounding terrain without annoying neighbors or the operation or neighboring businesses. It is a strong deterrent for potential intruders because seeing inside the lit area is difficult.
Standby Lighting
This type of security lighting type is like continuous lighting in the layout but without continuous lighting. The lights illuminate automatically when movement is detected or with the engagement of an alarm system or it can be turned on manually. Often referred to as crash lighting, standby security lighting can impact an intruder with a devastating psychological effect when their "cover" is suddenly gone. 
Movable Lighting
This type of security lighting is manually operated and can be moved around when and where it is needed. Often used to supplement the continuous or standby security lighting described above, it is typically mounted on telescoping poles and mounted on trailers that are powered by generators, providing maximum flexibility.
Emergency Lighting
This system duplicates any of the first three security lighting systems described but with limitations when there is a power failure or other emergencies that leave normal security lighting systems inoperative. It uses an alternative power source from installed generators, portable generators, or those powered by batteries. 
Which is the most common type of exterior security lighting?
The previously described Continuous Security Lighting is the most common type, offering a series of fixed lights positioned to flood a certain area endlessly with each light overlapping the others in a cone shape.
Which security lighting is best?
Today, thanks to the doorbell systems that come with a camera and audio built-in, connecting security lighting with doorbell cameras offers the best security lighting you can have for your home. You can also place motion-detecting lights all around the home along with additional cameras. These security lighting and doorbell systems are programmable with cell phone apps that can alert you when you're not home as well as alert local law enforcement if there is an intruder.
Do motion sensor lights deter burglars?
Yes, a system that includes security lighting with motion sensors will not only startle the suspected criminal, but systems today can alert you by phone as well as alert local law enforcement. Some systems will have an alarm sound when the light is activated, further startling the would-be criminal to make them run, though only after a camera has caught them in action.
How bright should an outdoor security light be?
While you want your home to be illuminated for safety, you don't want to create light pollution with lighting that is misdirected or misused. Nothing makes enemy neighbors cranky faster than floodlights shining into a bedroom window. Fortunately, there are many easy ways to set up security lighting for you that won't anger the neighbors.
First, accent and pathway lighting shouldn't be any brighter than 180 lumens. Select light bulbs with warm light and aim the light fixtures away from neighboring houses. Eliminate anything that can create a glare from the lighting. Security lighting is meant to alert you to a potential intruder while starting the intruder. It isn't meant to make enemies of your neighbors.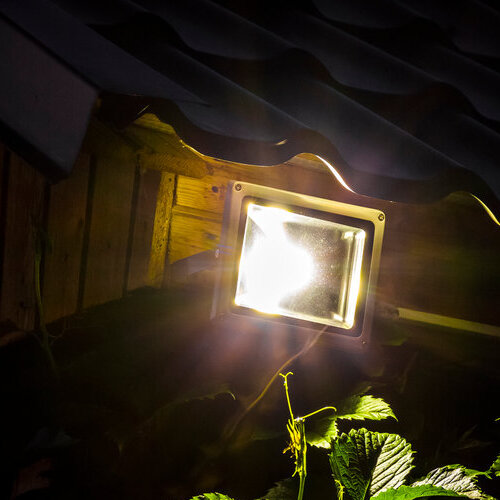 Lights. Camera. Safety!
When you're ready to set up security lighting around your home or business, interview a couple of different companies that specialize in how to install security lights. They should have the experience and knowledge of what type of lighting is best for your situation and make recommendations accordingly.