Misting System
Enjoy Your Backyard Even in the Heat
Here in Texas, we are no stranger to hot summer days. Unfortunately, the heat often keeps people inside on beautiful sunny days. But with the installation of a misting system, you no longer have to avoid your backyard or patio in the heat. Instead, you can enjoy your patio in the coolness provided by a misting system. These simple systems can bring much-needed relief on a hot Texas day.
If you are interested in the installation of an outdoor misting system in Fort Worth and Dallas, TX, contact our team by dialing (817) 345-3696. Majestic Outdoor Lighting will be happy to visit your property and determine the best way to implement a misting system in your backyard or patio.
How It Works
Our misting systems are very simple. They pressurize water which is then forced through very small openings in a specially designed mist nozzle. This creates a calm, cooling mist of fine water droplets in the area the system is installed within.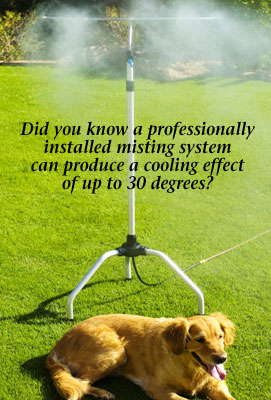 As the small water droplets evaporate, they produce a cooling effect. Misting systems can actually cool the area up to 30 degrees Fahrenheit. This significant cooling effect provides a curtain of mist that envelops your patio, arbor or backyard.
Variety of Applications
A misting system for your backyard or patio has a variety of applications. It can help to keep you and your loved ones cool as you sit on a back porch and sip tea. Or you can use it in an outdoor kitchen area to ensure your guests can dine comfortably on your patio. It is even helpful for furry family members who may suffer from the heat.
We have a large range of high-pressure misting accessories and systems. We can create a cooling effect for your home or business. We will help you choose from any of the following misting system types:
Patio Misting System
Pool / Water Fog Effects
Portable Misting Towers
Fans
and more!
Contact Majestic Outdoor Lighting today at (817) 345-3696 to get a custom quote for the installation of an outdoor misting system in Fort Worth and Dallas, TX.