Moonlighting / Down Lighting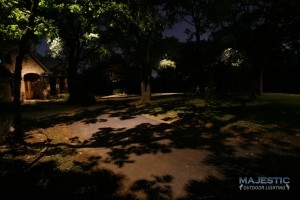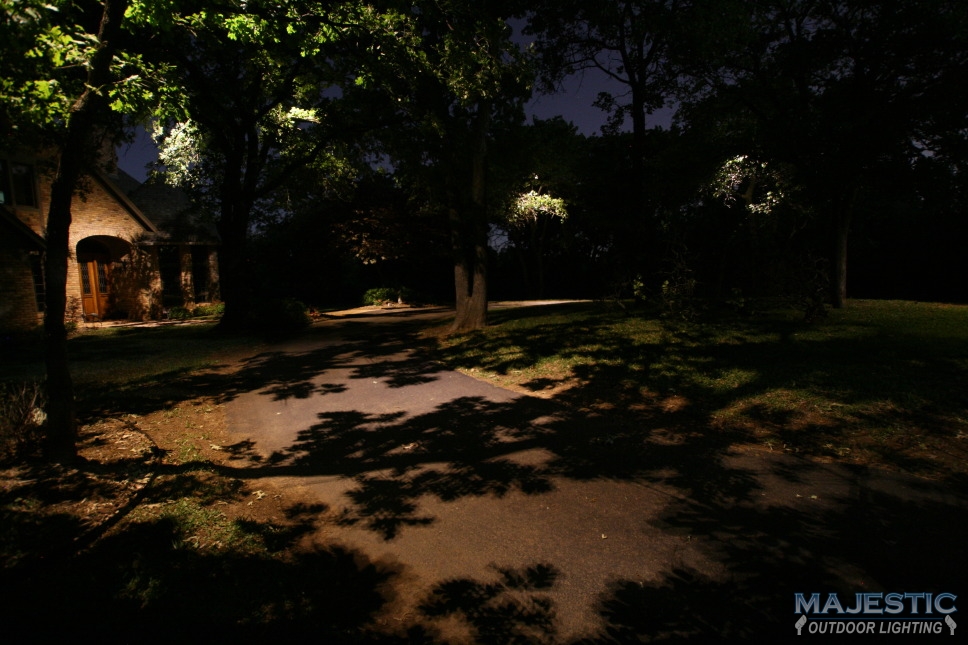 Who doesn't appreciate the magical appeal of a bright moon? We can help you recreate that appearance in your own yard with special, beautiful lighting techniques.
Warm lighting, including the kind that comes from the sun, is perceived as welcoming and cheerful. Cool, moon-like lighting is considered to be more mysterious, subdued and dim.
The best solution is oftentimes to combine the two. Many of our lighting projects include areas that are brightly lit, while others are dim or dappled.
 I believe the answer is that a combination of perceptions is involved. Most successful lighting projects have areas that are brightly lit, others that are dim or dappled and the remainder that have only ambient illumination.

Vision research tells us that people tend to experience warm lighting (such as 3,000

o

K halogen) to be welcoming, cheerful and bright.Cool (blue) lighting is perceived to be more subdued, mysterious and dim.

Which do you prefer?

The pictures to the right are meant to simulate this difference. I believe it's safe to say that the warmer scene on the left would better succeed in creating an environment that welcomes a visitor.

Slightly-blue lighting does look more moon-like, but overly blue lighting is obviously artificial.

Note, however, when people spend time in either warm or cool light, they eventually adapt to the color shift and the light seems neither warm nor cool.


Lighting with 3,000° K (Halogen). (Design by Mike Lenyk.)

Photo retouched to simulate lighting at about 8,000° K (blue filter).
Keep in mind that our light levels using halogen luminaires is about 100 times brighter than moonlight. While we may see dim moonlight as slightly blue, when we are presented with a light 100 times brighter, the blue color may seem artificial.
4. Moonlighting Tools and Mounting Techniques
Fixture Type. The CAST Tree Light (CCTL1C) is an MR-16 fixture designed specifically for moonlighting. The extra long shroud along one side allows for additional shielding from glare.This enables the designer to mount the fixture at lower heights without causing visual discomfort to the viewer. The solid bronze knuckle can be adjusted to any angle.
Mounting. The CAST Tree Light includes a tri-pronged mounting bracket. A slot in the bracket allows the installer to first install the bracket (with a power drill), then slip and secure the fixture in place. The Tree Mount Stainless Steel Hanger Bolts (CTREEH1) have built-in spacers to provide an air space between bracket and tree preventing the growth of fungus and mold. (Figure 2.)
We are a local, family owned business with over 25 years of experience in the housing and commercial building industry.
We aren't as big as some of the other outdoor lighting companies, but that means we will work harder to earn your business, and when you call us you will talk with me, Dan Keim, the owner, not some answering service or salesman.  Please let us show you how our personalized service is hard to equal and rarely beaten.
Our factory-trained technicians are professional and courteous and will not stop until the customer is satisfied.  We buy our products directly from the factory and pass that savings on to you.
Photo gallery below: