Quality Outdoor Lighting In Cedar Hill, TX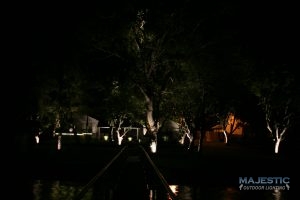 Do you need a skilled, particular outdoor lighting solution for your home or commercial property? Majestic Outdoor Lighting is your trusted destination for commercial and residential lighting in Dallas and Fort Worth. Call us today at 817-345-3696 to learn about our extensive lighting options!
Our Outdoor Lighting Services
In addition to providing an added level of safety to your home or business, outdoor lighting can be used to highlight architecture, gardens, trees, and more. Enjoy your backyard at night, light your walkway, or embrace the colorful Christmas spirit with endless lighting options. We're your local lighting professionals, covering everything from business exterior lighting to holiday light installation! Call 817-345-3696 for any of the following services:

Call 817-345-3696 today for the best outdoor lighting in Cedar Hill, TX by Majestic Outdoor Lighting! We're here to find the best lighting solution for your home or business!