Quality Outdoor Lighting In Dallas, TX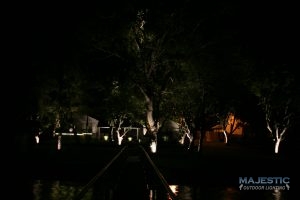 Every home or commercial property needs a perfectly crafted outdoor lighting solution to improve the property's appeal and safety at night. Majestic Outdoor Lighting is your number one destination for commercial and residential lighting in Dallas and Fort Worth. To learn?discover more, call us at 817-345-3696 or browse our online galleries for examples of our work.
Our Outdoor Lighting Services
Add an extra level of security and style to your property with professional lighting solutions for every need. Enjoy your backyard at night, light your walkway, or embrace the colorful Christmas spirit with endless lighting choices. Whether you need commercial outdoor lighting or LED lights, we can help! Call Majestic Outdoor Lighting at 817-345-3696 if you are looking for:

Call 817-345-3696 today for expert outdoor lighting in Dallas, TX by Majestic Outdoor Lighting! We'll help you find the right solution to make your property beautiful and secure.