Quality Outdoor Lighting In Justin, TX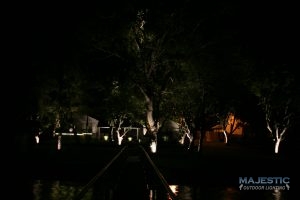 Finding the ideal outdoor lighting solution for your property can be a pain if you do it yourself. Make Majestic Outdoor Lighting your number one choice for home and commercial lighting solutions in the Dallas / Fort Worth metroplex. To learn?discover more, call us at 817-345-3696 or browse our online galleries for examples of our work.
Our Outdoor Lighting Services
Add an extra level of safety and beauty to your property with expert lighting solutions for every need. With outdoor lighting, you can spend the evenings enjoying your pool, patio, or deck. We take care of everything from step lighting to outdoor light maintenance. Call Majestic Outdoor Lighting at 817-345-3696 if you want:

If you want outdoor lighting in Justin, TX, call Majestic Outdoor Lighting today at 817-345-3696! Our lighting professionals will help you discover the best option for your property.