Quality Outdoor Lighting In Highland Village, TX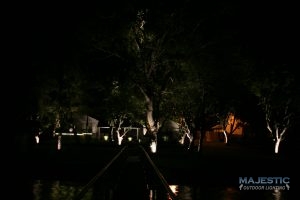 Do you need a skilled, creative outdoor lighting solution for your home or business? When you want quality service and skilled lighting results in the DFW area, choose Majestic Outdoor Lighting! To learn?discover more, call us at 817-345-3696 or look at our online galleries for examples of our work.
Our Outdoor Lighting Services
Not only can proper outdoor lighting amplify the beauty of your property, it can also provide greater safety to your home or business. Amplify the best features of your property with creative lighting options. We're your local lighting professionals, covering everything from business exterior lighting to Christmas light installation! Call us today at 817-345-3696 if you're looking for:

Call 817-345-3696 today for professional outdoor lighting in Highland Village, TX by Majestic Outdoor Lighting! Our aim is to help you improve the appearance and safety of your home or business with the perfect lighting solution!