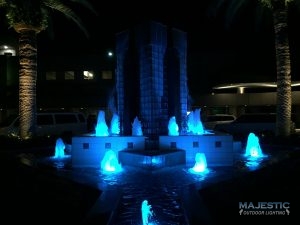 After we set up your lights, we do our best to make sure everything is ready to brighten up your property for many seasons to come. However, as with anything, lights age, and the weather can uncover hidden wires over time. In order to keep everything in the tip top shape we installed it in, we do offer an regular maintenance program, to make sure you continue to get the most out of your investment, and your home keeps it's beautiful custom glow. Below, we've described the basic services included in our maintenance plans.
Lens Cleaning
Similar to the way the headlights on your car start to develop a foggy glow over time, your lighting lenses can do the same. During our maintenance visits, we remove these lenses, soak them until they are clear again, and return them to their places.
Fixture & Wire Adjustment
Because the wind and rain can uncover your wires over time, we come in and rebury or hide them as needed. This is as essential for longevity as it is for aesthetics, as hidden wires are safe wires from pests, feet, and the elements. If any of your fixtures have been loosened or become crooked, we can fix and adjust these issues as well.
Bulb Replacement
Every light bulb will eventually burn out, but you don't have to worry. High or low, our team is happy to replace burnt out bulbs as needed!
Contact our office today at 817-345-3696 to learn more about our lighting maintenance program. Our appointments start as low as $300 and we can adjust the services as necessary for your personal lighting needs!