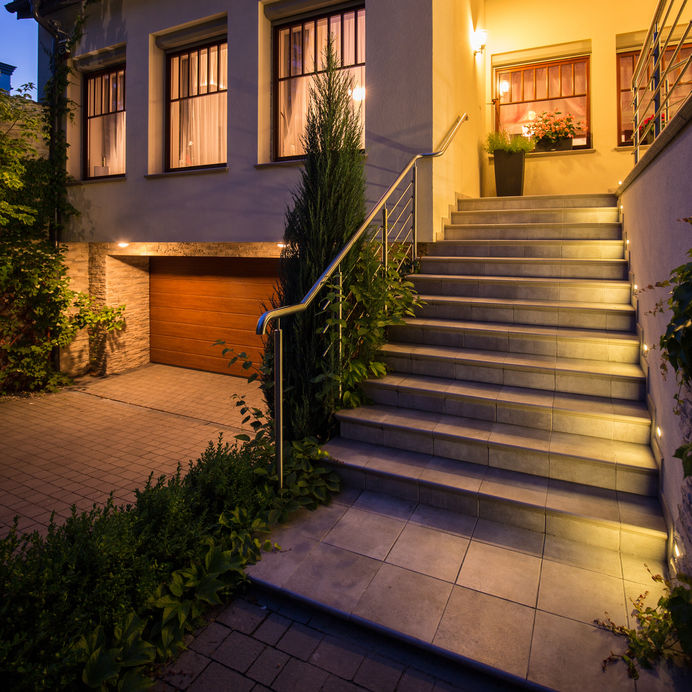 Why is outdoor lighting important?
Nothing can make a home more warm and welcoming than having the landscape lit up in the evening. However, there is more than just the soft glow of stylish outdoor lighting, benefits are plentiful. Outdoor lighting importance is many and important not only for your home's appearance but safety issues too.
 There are many reasons for a homeowner to utilize Outdoor lighting, purpose is many from an aesthetic view to a safety feature. The primary pros and cons of outdoor lighting are:
The Attraction – with proper installation and placement, outdoor lighting benefits include creating that pleasing ambiance on a deck, a front porch, and patios. The exterior of your home becomes appealing, adding to the curb appeal that can make the entire neighborhood envious. One of the biggest outdoor lighting benefits is the added touch of elegance.
Safety and Security – One of the best outdoor lighting benefits you can expect is the safety and security it offers your home. Properly placed at each doorway and gateway, illuminate the darker pathways and walkways, making your trip from the garage to the house safer. A guard from abnormalities and potential intruders. One of the most important outdoor lighting benefits is making your guest's arrivals and departures safer in evening hours.
Simply because winter has arrived doesn't mean your home won't have outdoor lighting benefits as it did during the summer. Yes, the spring and summer months are wonderful times to be outdoor. Lighting benefits keep the deck and pool area well-lit and safe, a party atmosphere, and ease for cooking and enjoying guests.
The biggest outdoor lighting benefits may be in the fall and winter months.  The days are shorter, meaning we not only need lighting in the evening when we get home, but we also leave our homes in the dark each morning. With proper outdoor lighting at each door, at the deck, or front porch, the trek to your vehicle is safer and adds great value to your home.
Where should outdoor lights be placed?
The light needed during the day is different than the light needed at night. The most important focus of course is proper lighting in the evening hours. Outdoor lighting benefit  principles to keep in mind as choosing what outdoor lighting benefits you want and needed so that you can choose the proper  brightness and size would be the emitted quantity, color, and intensity, and should include three layers:
In Whole: The illumination provided for an entire room and space.
The Mission: To light up a pathway.
A Pronunciation: Drawing attention to a specific area or a particular object using floodlights or spotlights.
Within these layers, there are a variety of bulbs that can provide several outdoor lighting benefits that are appropriate for outdoor lighting fixtures:
Incandescent light bulbs to emit a pleasing light but are known for a short lifespan, yet use more electricity
Halogen bulbs are like incandescent bulbs, making them more efficient and have a longer lifespan while consuming less energy
Fluorescent lighting is available in a variety of colors and offers a longer lifespan while consuming less energy
LED bulbs are the more expensive lighting but with the longer lifespan and using less energy, the ROI is higher.
What type of outdoor lighting is best?
It all depends on what your intended goal and desired outdoor lighting benefits you desire. Outdoor landscape lighting will transform a home by brightening the garden paths, the walkway through the yard and create a beautiful, warm, and welcoming oasis of light.
Seven types of outdoor lighting benefits with these fixtures:
Spotlights – set a focus on a specific area of your home's exterior décor.
Flood Lights – set your beautiful garden and trees to stand out.
Up/Downlights – give your home's exterior look with lights alternating up and down.
Step Lights – making your guest safer as they walk up and down the steps to the spa and swimming pool.
Garden Lights – give your handy gardening a glow
Bollard Lights – add a touch of elegance to the front of your home.
String Lights – across the outdoor kitchen and around the gazebo for a look of elegance.
How bright should outdoor lights be?
Again, this is a personal choice. Are you looking for a bright area in the backyard around the grill and swimming pool? Or are you looking for ambient and soft that makes your home safe?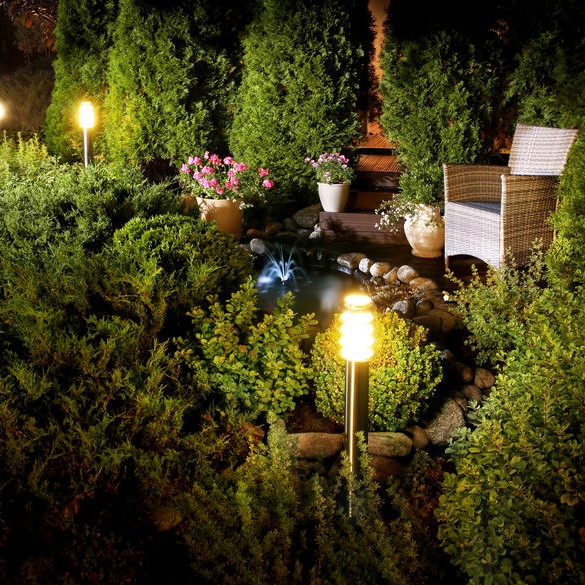 Are LED lights good for outdoor use?
Absolutely, LED lighting is one of the best choices for all commercial, residential, and industrial outdoor lighting benefits. They are ideal for outdoor use because of the many outdoor lighting benefits offered while giving you minimal Outdoor lighting maintenance required and a long lifespan, so they don't need replacing too soon.
Outdoor lighting benefits are plentiful and once you have professional outdoor lighting installed, you'll realize these are benefits you don't want to do without. From the aesthetics to the safety features, outdoor lighting is something every home should have installed. Need outdoor lighting for your home in Fort Worth and Dallas, TX? Call (817) 345-3696 today.