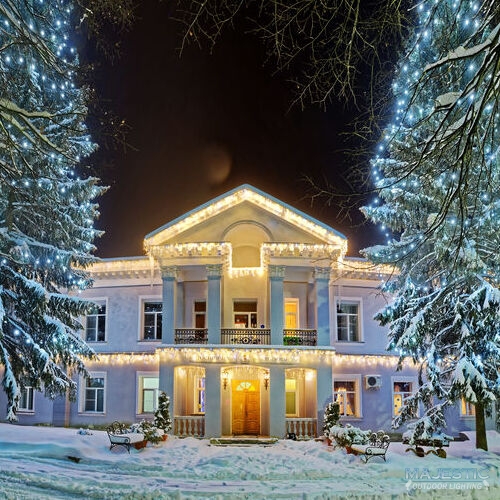 Learn More About Holiday Lighting
With the holiday season drawing near, holiday lighting is showing up more and more in neighborhoods and businesses to add a bit of vibrancy to the area. They are a great way to bring in the festive atmosphere and can be designed to fit with your preferences and property. In order to have a smooth set up, it's important to familiarize yourself with different types of holiday lighting. You may be able to get into contact with a professional outdoor lighting company to see what may work for you. Here is some general background information regarding holiday lighting that may prove of use to you in the meantime.
How do you hang outdoor string lights?
You may be able to attach cup hooks every yard or so along a porch, pergola, or covered patio when you're trying to set up outdoor string lights or holiday lighting. You can follow the line of roofs and porch beams or you and crisscross the lights.  
How many Christmas lights should be on the front of the house?
How many lights you'll need for holiday lighting will depend on the area and dimensions of what or where you're trying to light. There are many lights out there that are sold by length so keep that in mind when you wish to decorate your home. 
What is the brightest LED Christmas lights?
The brightest and durable holiday lighting is Conical 5mm Wide-Angled LEDs, even professional holiday light installers use them for their displays. They are advantageous since they are snowproof and waterproof due to the LED being injected molded into the plastic cordage.  
Is it dangerous to leave Christmas lights on?
Holiday lighting can be left on overnight as they are designed to withstand outdoor weather and other outdoor conditions. The only danger you may see is having overheated lights with a dry Christmas tree which can run the risk of a fire. Stay alert with your lighting with a clear schedule of use.
What lights are safe to leave on all night?
LED holiday lighting is ideal to leave on for long periods of time due to their low power use and very low heat output. They are great to use as a background accent light or night light.
How can I turn on Christmas lights without electricity?
You may be able to plug holiday lighting into an AC to DC inverter, a simple way to convert your lights into running on battery power. The holiday lighting is plugged into the inverter which is powered by a 12-volt battery. 
What Christmas lights do professionals use?
The holiday lighting that professionals use is commercial LED light strings with co-axial connectors due to their exceptional durability. 
How can I put Christmas lights up without an outlet?
If you don't have an outlet nearby for your holiday lighting you may simply get a lawn stake with an extension cord and run it from any outlet inside the house or from your porch lights. There are also options nowadays that runs on battery or USB lights where you can recharge them or detach them at the end so that you may be able to charge them inside. 
How long do battery operated LED Christmas lights last?
Microdrop LED holiday lighting that's constructed on a thin uncoated wire can last over 100 hours with a new set of 2 AA batteries. They may also run on 2 round C-style batterie. Standard LED battery light sets with thicker insulation and LED lenses will be able to last around 18-24 hours with a set of 3 AA batteries.

What are the best Christmas lights for outside?
Best Overall: Prextex 100-Count Christmas Light Set
Best Splurge: Frontgate 3-Pack Controllable RGB LED Kit
Best LED: YULETIME Warm White LED Christmas String Lights
Best with Timer: ASENEK 100 LED Outdoor String Light
Best Large Bulb: Home Accents Holiday 25 Multi-Colored C9 Lights
Best Color: Home Accents Clear Light Set at Home Depot
Best White: AmazonBasics 100 LED Outdoor String Lights
Best Solar: The Holiday Aisle Fairy 100-Light Solar String Lights
Best Shape: Home Accents Holiday 300 Clear Icicle Lights
Get Set Up Professionally With Your Holiday Lighting
If you'd like professional assistance with setting up your holiday lighting get in touch with your local outdoor lighting company. Holiday lighting can come in many different options with different displays that will best fit with your property's specifications. What's more, there will be different types of accommodations you can choose from when it comes to how you'd like your lighting displayed or powered. End the year with a vibrant display of holiday lighting and stand out in your neighborhood, commercial district, or other location. Install your holiday lighting today.

If you're interested in holiday lighting in Fort Worth and Dallas, TX rely on Majestic Outdoor Lighting for a great display, call us at (817) 345-3696 today!