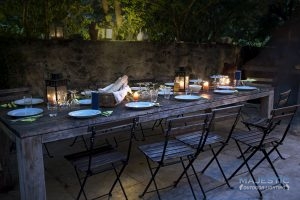 It may only be February but that means it's nearly springtime in Texas. After a warm winter the weather in Texas should be turning warm soon and that means it's time to get your lawn in springtime condition! Read on for some helpful tips on how to make the best of your homes outdoor areas this spring.
Get Your Gutters Cleaned.
While it hasn't been too snowy or icey this winter in Texas, your gutters could probably still use a good cleaning. Cleaning out your gutters makes the outside of your house more presentable. Having your gutters cleaned also reduces pests and unpleasant water drips when entertaining outdoors.
Think About Outdoor Dining.
There are few things more beautiful than a perfect spring night in Texas. If you're thinking of entertaining company this springtime, why not prepare an outdoor area to do so? Outdoor dining areas offer a fun alternative after staying inside all winter. Outdoor furniture doesn't have to be fancy either, look for pieces at thrift stores and garage sales and add a personal touch by sanding and custom painting them!
Light Up Your Pool and Patio.
If you're planning on spending time outdoors this springtime, add a little something special with custom lighting. Lighting your outdoor dining and poolside areas can make all the difference this spring in how much time you spend outside. Custom lighting around pools and patios can make your lawn safer and also extend the amount of time during the evening you can spend outside.
Call (817) 345-3696 and Speak to Majestic Outdoor Lighting to Find Out More Today!