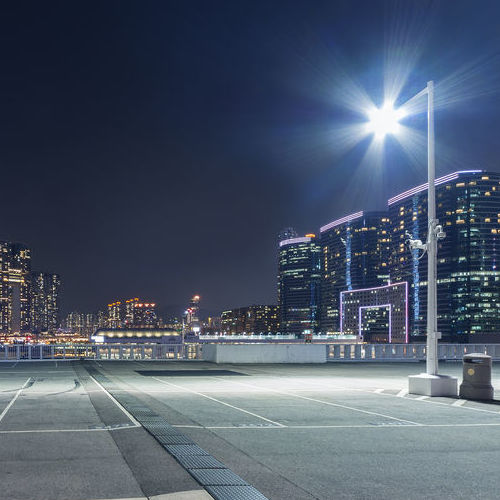 Is parking lot lighting required?
If you are searching for your car in a poorly lighted parking lot, it can be frustrating, and maybe a little scary. You may begin to wonder what standards are set for parking lot lighting. The truth is, there aren't any national standards for parking lot lighting. Standards are generally set by various city codes and can vary from place to place or even from business to business. Of course, having adequate lighting can protect you and your customers and give you added security. If you need lighting for your parking lot or other Business and commercial outdoor lighting in Fort Worth and Dallas, TX, let the experts at Majestic Outdoor Lighting help you. We provide a full range of outdoor lighting for homes and businesses. Call us today at (817) 345-3696 to find out more.
Parking lot lighting design
If you are planning to have parking lot lighting installed at your business, you'll have to keep two main elements in mind when designing the lighting layout: the minimum light level and a uniformity ratio. You will also want to consult with your local city planner to find out what ordinances require and allow as you work out your design. Moreover, you'll want to check OSHA guidelines and with your insurance company. Both of these resources will provide you with information that can help protect you from litigation. 
If you are inexperienced with design, consult with professionals like those at Majestic Outdoor Lighting to help you understand what you will need to adequately light your parking area. Also, check with businesses similar to yours and see what they did and how their ideas might benefit your plan. When selecting luminaires, make sure they are Energy Star or Design Lights Consortium (DLC) approved. Electric utilities often provide incentives and rebates for using approved lighting.
As you work on your design, you may want to use a parking lot lighting layout tool. Several calculators and other tools are available online that can help you with various aspects of the layout. You can figure out such things as the right light levels for your space or the type of lighting you'll need. They can help you save time as well as money, and teach you how to save on energy expenses while getting adequate lighting. Some of these tools are used by professionals to assist with design efforts.
How many lumens do I need for a parking lot?
There are going to be many variables at work when deciding on the amount of light output for your parking lot lighting. You'll have to determine what your goals with the lighting are. How bright do you want the lighting? Do you want the option to dim the lighting? What specific type of lighting are you using? Many people now choose LED lighting because it offers so many advantages over other lighting types, including longevity. As far as how many lumens you'll need, when it comes to LED lighting you'll want at least 20,000 lumens per each light head at a height of about 15-20 feet per pole. If you want really bright lighting, you can set the lighting about 30 feet up at 30,000-40,000 lumens.
How do you install parking lot lights?
Installing parking lot lighting can be a complicated process. As with any sort of design project, you're going to start with some serious planning. Planning will include figuring out how much light you'll need, what kind of lighting, how high up it should be. After you plan your design you'll want to follow this process:
Have underground wires or conduits installed for each light pole. All local ordinances should be followed. 
Foundations for the light poles are added next. The foundations could be concrete piers or even large posts.
Light poles are mounted to the foundation.
The conduits or wiring are connected to cables that go to the power source inside the building.
How tall is a parking lot light?
Generally, most parking lot light poles run between 12 to 20 feet. Some, however, are as tall as 35 feet. The lighting output, measured in lumens, should determine the height of the poles in parking lot lighting. Also, the higher the poles are, the fewer you will need to light the parking area. 
What is good wattage for outdoor lights?
In general, the best wattage for outdoor lighting will vary, depending on what the lighting is being used for. Anything 80 watts or lower is often the best. Lighting that's 40 watts or lower is good, for instance, for areas like driveways or garden paths.
How many lumens does a driveway light need?
Lighting a private drive requires much less light than parking lot lighting. While parking lots need lights of about 20,000 lumens or more, a small drive just needs anywhere between 1,600 and 2,200 lumens to be adequately lighted. A larger drive needs at most 2,400 lumens.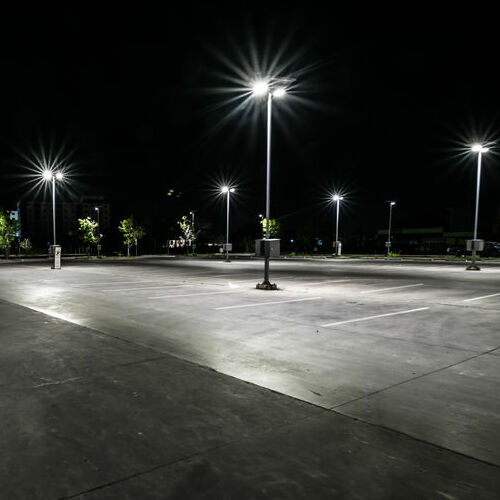 Parking lot lighting installation near me
If you have a business and need new parking lot lighting installed or repaired in Fort Worth and Dallas, TX, let the professionals at Majestic Outdoor Lighting take care of all your outdoor lighting needs. We offer a wide range of business and commercial lighting options from parking and security to decorative lighting. Find out how we can help by calling (817) 345-3696.