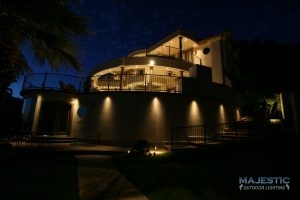 Is your home as safe as you would like it to be? There are many things you can do to add security to your home, including adding lights! Today we will go over the various ways your home can benefit from strategic outdoor lighting.
Throughout your property, there are different styles and techniques that lighting can be arranged in. The right lighting will add ambiance to your pool, your garden, and any outdoor seating areas. However, when done properly, these lights can be far more than accent lighting.
Safety Lighting
Putting lighting outside of your home makes your home safer. For example, lights around the pool ensure nobody stumbles in at night, and lights around pathways keep you safe from critters and other hazards in the dark. Additionally, your outdoor lights can be designed to improve security.
First of all, no trespasser wants to be seen, so having lights around the property can keep intruders from risking your yard at all. However, if you don't want to have the lights on all of the time. Our motion sensor lights are designed to only come on when they sense motion. This way, if anyone does decide to creep around in the darkness of your yard, the lights will snap on and illumniate the property.
If you want to improve your security system with outdoor lighting, contact Majestic Outdoor Lighting today at (817) 345-3696. We provide great services at fair prices, and we are committed to customer satisfaction. To get an idea of our results, be sure to check out our gallery too!