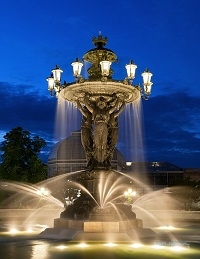 A water feature is a beautiful addition to any yard space. But why only limit yourself to enjoying its elegance in the daylight? Lighting your pond, fountain, or other water feature can help highlight this attractive piece to add appeal to your home or other property. Here we discuss several of the benefits of lighting water features.
Ponds, fountains, and other water pieces are typically lit from outside the feature or from lights submerged in the water. Using external lights to spotlight certain aspects of a pond or fountain can tie in this piece to the rest of your landscaping and accent its elegance. Using lights that are submerged in the water itself allows your feature to take on a gentle glow that illuminates the whole body of water. The size and type of bulbs can help you customize your pond or fountain to be exactly what you envision. Now, with changeable lenses and shades, the temperature and even the color of your lighting can be customized as well!
Customizing Your Lighting
Trust the professionals at Majestic Outdoor Lighting to help you navigate the many styles of water feature lighting to give your pond or fountain an ideal lighting arrangement to complement your landscape and budget. Call our team today at 817-345-3696!