I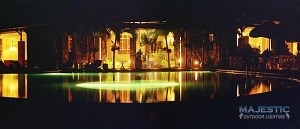 f you own a pool, you know the challenges and rewards of maintaining it year round. Why limit the beauty of your pool only to the daytime? Lighting your pool not only highlights this beautiful feature, but adds security by brightening the area to protect children and guests that may be unfamiliar with your yard.
A lighting professional will be able to showcase the strong points of your pool, whether this is in the water or in the architecture around it. A warm, well placed beam can exhibit a waterfall or hot tub, transforming a backyard space by drawing attention to its beauty and serenity. Or if your yard is often the backdrop of a party, you can opt for modern, upbeat lighting that highlights your pool in fun colors!
Pool lighting is also a security measure. You can never be too careful with children around water – a lit pool will help them avoid falling in. It will protect your guests by adding a gentle glow to outline your pool and help them navigate your yard and avoid falling in. Lighting the features around your pool will also deter burglars by eradicating dark places for them to take cover.
DFW Pool Lighting
If you are ready to explore pool lighting and other lights for your outdoor property, call us today at 817-345-3696!