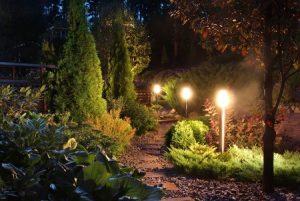 There are many reasons to take the plunge and have outdoor lighting installed on your property. Adding light fixtures around pathways, gardens, and pools are a great way to add style to the landscape. It is especially useful to have in the summer. After being stuck indoors all day because of the heat, adding beautifully arranged lighting allows you enjoy the outdoors in the cooler evenings. Outdoor lighting can be installed for security measures for your home as well.
Follow these recommendations for a perfectly designed and maintained lighting system:
Setting a Project Budget
Find a professional who is willing to give advice on the best products and fixtures that fit your budget. Having a set budget helps to determine the best equipment and design from the start of the project.
Profession Installation Benefits
It is important to start your project out right and hiring a professional means your lighting will be installed correctly and more importantly, safely. The best lighting professionals are willing to work with you to design outdoor lighting that works well with your landscaping with your ideas in mind. They will also be able to recommend the best fixtures and placement for safety and style.
Maintaining your New Lighting
It is recommended that you clean the lighting at least twice a year. This keeps the fixtures in condition and also keeps the lighting clear and bright. Replace any burnt out bulbs as needed and have any broken or frayed wiring repaired.
For professional outdoor lighting design suggestions and installation, call Majestic Outdoor Lighting.